11.
FLYNN, a sinister looking lowlife around 28, stands in the
doorway. Dirtbag good looks punctuated by soulless eyes. 357
Magnum hanging in his hand. Flynn assesses the room.
Flynn walks to the closet. Opens it to find...
A TEN YEAR OLD BOY is huddled in fear in the corner of the
closet.
INT. HOUSE - DOWNSTAIRS - DAY
TWO MEN and a WOMAN are packing up the living room. They are
single minded, like movers on a job. Constructing boxes.
Carefully wrapping the finer things. Labeling. Sealing them
up. An efficient machine.
A THIRD GUNSHOT shatters the upstairs.
The woman, TAMARA, 28 and sizzling hot, and with the moral
center of a concentration camp guard, flits her eyes upward.
Hoag and Flynn enter the living room.
ALBERT, 26, a loyal acolyte of Hoag's, grabs the box and
heads to the door.
DENNY, 19, with the spine of an oyster, dutifully follows.
Albert opens the front door where...
A GIANT, A HULKING FIGURE, 6'8", maybe 450 pounds, stands
there. Dumb obedience. Albert shoves the box in his hands.
The Giant takes the box and loads it into...
EXT. HOUSE - DAY
The WORK VAN. He slides the box in with a couple dozen more
just like it. All neatly labeled and inventoried.
Suddenly the music stops and the silence is slowly replaced
by the delicate sounds of nature. Hoag and the crew silently
exit the house.
EXT. HOUSE - DRIVEWAY - DAY
The Van is pulling out. Hoag driving. Tamara next to him.
Behind them, Albert drives the Pick-Up and the Giant rides
shotgun.
The bikes roll up to Hoag's side. Hoag rolls down the window.
Flynn flips his visor up.
12.
HOAG
Flynn, clear the path with Denny.
Angel's coming in tomorrow so that
should give us plenty of time to
unload.
FLYNN
Done.
He flips his visor and both bikes scream out of the driveway.
The Van and Pick-Up pull slowly after them.
INT. MOTEL - ROOM 8 - DUSK
Betty sleeps soundly. Suddenly her eyes snap open. The CREAK
AND CLICK of the room door opening.
She slowly rolls over as...
Driver enters. She looks at him. A sadness in her eyes.
DRIVER
I had to...
BETTY
Don't.
Beat.
DRIVER
I'm hungry.
BETTY
So go eat.
DRIVER
And leave you here alone? Right.
BETTY
Why don't you just go to dinner
with your girlfriend?
DRIVER
Would you be rational?
BETTY
How dare you ask me that. I know
what you were doing out there.
DRIVER
You're wrong.
Beat.
13.
BETTY
Fine.
INT. BMW - DUSK
Harris stands outside the passenger window. Gives Driver and
Betty directions.
HARRIS
You wanna head through Missoula.
Not much there but straight up fast
food and then shoot about twenty
minutes or so down 56. You'll pass
some bombed out gas station on the
right and then about ten minutes
after that is Helen's Place. Great
fish. Good pasta. Knockout steak.
DRIVER
Great. Thanks.
Harris leans in to Betty.
HARRIS
This guy treating you well?
Betty just stares at him. Beat.
HARRIS
Alright, then. Well you two kids
enjoy yourselves.
EXT. MOTEL - PARKING LOT - SAME
The BMW eases its way onto the road and, pulling the U-Haul,
heads north.
INT. BMW - DUSK
Driver and Betty drive in silence. Then...
DRIVER
This is all about her, isn't it?
BETTY
Can you possibly imagine it being
about anyone else?
DRIVER
Might we just enjoy a pleasant
dinner?
14.
Beat.
BETTY
I suppose so.
EXT. RURAL ROAD - DUSK
The dipping sun filters orange through the dense forest. The
BMW cruises, navigating languid curves as it chases the day.
INT. BMW - NIGHT
Passing the ABANDONED GAS STATION Harris told them about...
DRIVER
There it is.
A sign hangs askew...letters missing - HOAG'S FI LI G
STATION.
BETTY
What?
The WHITE WORK VAN IDLES next to one of the beat up
buildings.
DRIVER
The gas station. Restaurant must be
right up here a bit.
EXT. ABANDONED GAS STATION - NIGHT
As the BMW drives past, headlights on Hoag's van dim to
black.
EXT. HELEN'S STEAKHOUSE - NIGHT
The BMW turns into the deserted parking lot. Parks.
Driver and Betty get out of the car. Walk to the front.
BETTY
I don't think we'll have any
trouble getting a table.
DRIVER
Note to self, don't order the fish.
Betty giggles.
15.
DRIVER
Ah ha! A sign of forgiveness.
BETTY
Don't get carried away.
INT. HELEN'S STEAKHOUSE - NIGHT
Cozy and cheesy. Helen, 60, greets her guests.
HELEN
Hello there, weary travelers.
Driver looks at Betty, "Weary travellers?".
HELEN
Harris called ahead. Said you'd be
in. It's awful quiet these months.
Not quite summer, not quite fall.
No one wants to freeze their butts
off and look at a bunch of green
leaves.
(beat)
Sit anywhere you want.
(beat)
In about a month these parts'll be
crawling.
Driver gestures for Betty to pick a table. She grabs the
closest one.
HELEN
You sure you want to sit there?
There are some nicer --
BETTY
This will do.
As they sit.
HELEN
Of course. Amber will be right with
you.
Helen walks off. Shouts into the kitchen.
HELEN
Amber. Table.
16.
INT. HELEN'S STEAKHOUSE - LATER
A personable WAITRESS, AMBER, 18, with a hard local edge,
rattles off some specials.
AMBER
The fish tonight is a terrific John
Dory. Fantasmic. And the steak is
an aged rib-eye.
DRIVER
Is it aged because no one orders
it?
AMBER
Very funny. Let me get you
something to drink to start.
DRIVER
Wine.
Suddenly, the front door swings open and Hoag, Albert, Denny,
Tamara and Flynn enter.
Amber mutters.
AMBER
(sotto)
Ah, crap.
They walk past Driver's table. Driver stares at them, but
they never look his way.
They grab a table and sit down. Hoag snaps his fingers for
Amber's attention.
INT. HELEN'S STEAKHOUSE - LATER
Driver is carving into a fat steak, bloody. Betty eats a
salad.
DRIVER
You sure you don't want some of
this? It's not bad at all.
BETTY
I'm sure.
DRIVER
Betty.
She doesn't look up. Tears in her eyes fall to her cheeks.
It's tragic.
17.
Just then, FLYNN flips one of the chairs and sits down with
them.
Driver and Betty share a troubling look.
FLYNN
You people from around here?
Beat. Flynn turns to his companions.
FLYNN
I think they're mutes.
DRIVER
We're just passing through.
Flynn looks out to the parking lot. Sees the BMW and the UHaul.
FLYNN
Are you moving?
DRIVER
Relocating.
FLYNN
Must make you nervous.
DRIVER
What's that?
FLYNN
Travelling with all your worldly
belongings.
Driver looks at Betty.
DRIVER
(re: Betty)
This is my only worldly belonging.
FLYNN
Aw. That's sweet.
Betty turns to Flynn.
BETTY
Please. We don't want any trouble.
FLYNN
Excuse me?
DRIVER
Look, just forget it.
18.
Flynn smacks the table with the palm of his hand, silencing
Driver.
FLYNN
Way I see it, your girl views me as
the unsavory type. Is that true? Do
you see me as someone not worth
knowing? Uncouth, perhaps?
Flynn reaches across the table and places his palm over
Betty's hand.
FLYNN
Is that how it is?
Driver stands up, but Betty pulls her hand away first.
BETTY
(to Driver)
Don't.
Flynn is on his feet, as well. Stares Driver down.
FLYNN
You best listen to the girl --
Hoag places his firm hand on Flynn's shoulder. The others are
next to him with bags of take-out.
HOAG
Don't mind my buddy, here. His idea
of friendliness is to scare the
tourists.
Flynn smiles a broad grin at Driver and Betty.
FLYNN
Boo.
HOAG
Let's go.
Flynn pauses, then follows the others as they exit the
restaurant. As they leave, Flynn mutters softly...
FLYNN
(sotto)
Seems Christmas come early this
year.
And as the door closes...
Amber appears next to the table.
19.
AMBER
Sorry about them. They're the local
color that insist on painting
everything black. All small town's
got 'em.
Driver observes through the window as Hoag, Tamara and Albert
climb into a Dodge pick-up. Flynn and Denny get on their
bikes. Multiple engines roar to life and the vehicles kick up
gravel out of the parking lot.
DRIVER
That's fine.
(beat)
We'll just take a check, thanks.
EXT. HELEN'S STEAKHOUSE - PARKING LOT - NIGHT
Driver and Betty walk to their car. Driver disengages the
alarm.
He opens the door for Betty. As she slips into the passenger
seat she notices him staring off down the road.
BETTY
Don't worry about it.
He snaps out of it.
DRIVER
People like that...they...lack
creativity.
BETTY
There are worse sins.
DRIVER
Not many.
He walks around the driver's side and gets in.
EXT. RURAL ROAD - NIGHT
Heading back, the BMW passes the abandoned gas station. It's
empty now.
INT. BMW - NIGHT
Driver and Betty drive into the bleak night. Headlights pick
up the occasional set of eyes peering curiously off the road.
20.
Driver is stone. Betty sits morose in the passenger seat. The
tension in the air is thick.
DRIVER
I thought we were moving on.
BETTY
That's easy for you to say.
DRIVER
Can't we just let it go? Agree to
disagree?
BETTY
I've been here before, remember? I
replaced the last one. I'll never
forget how I felt when you got rid
of her. Like it was just a matter
of time.
DRIVER
That's not going to happen. In fact
it's demeaning that you view our
relationship in those terms.
BETTY
It feels the same now.
(beat)
I'm fighting for my life here.
DRIVER
If it's a fight you want, there can
be only one outcome. You might want
to do some soul searching before
you go there.
Just then, a MOTORCYCLE flies past the car. Must be going 180
mph. And then the other one.
BETTY
Oh, my God.
Driver weaves to the side of the road. He looks in the side
mirror. Nothing.
BETTY
You shouldn't have started with
those locals. They were weird.
DRIVER
They don't know from weird.
Driver accelerates. Ahead...
In HorrorZone We Trust:
Нравится то, что мы делаем? Желаете помочь ЗУ? Поддержите сайт, пожертвовав на развитие - или купите футболку с хоррор-принтом!
Поделись ссылкой на эту страницу - это тоже помощь :)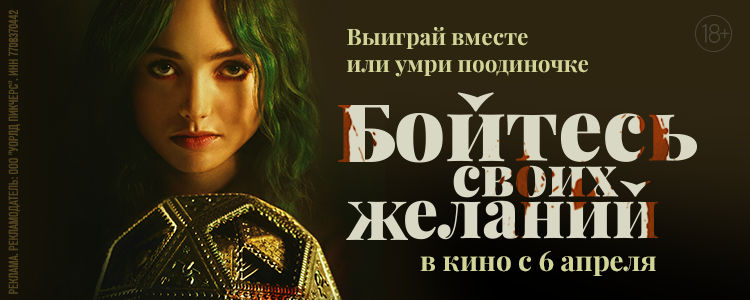 Мы в соцсетях: